The Matson Story
Matson: Through the Generations




---
The timber and lumber business has been a way of life for the Matson family for more than 200 years. John Matson, a pioneer lumberman, was one of the first residents in Jefferson County, and he built the first sawmill here in 1804. In the 1890's, R.M. Matson's company built one of the first band saw mills in the country, right here in Brookville.
Whether you call us tomorrow, next year, or a generation from now, Matson will be here – providing customers with the world's best hardwood lumber and logs.
R.M. Matson's grandson, Robert Matson, was a pioneer in his own right. He worked with his father George in the mill as a teenager, and started his own company after serving in World War II. Robert Matson understood the importance of ensuring resources for the company's future, and invested in high-quality timber so he could manufacture the best hardwood lumber. The company presently owns more than 27,000 acres of timberland. The majority of the forest land is located near the Allegheny National Forest, which contains high-quality Oak, Cherry, Poplar, Ash, Hard Maple, Soft Maple, and Beech.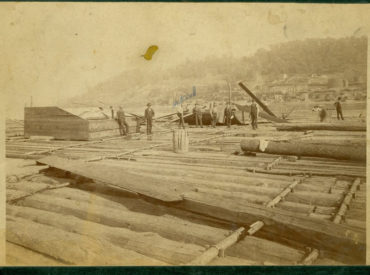 Robert Matson belonged to a small group that initiated the exporting of hardwood lumber. He started exporting lumber in 1970, and the company continues today, more than 45 years later, with business in over 28 countries. Matson Wood Products has earned Pennsylvania's Governor's Export Award in the Agriculture group on two different occasions for demonstrating excellence in exporting hardwood lumber.
Matson currently operates three facilities, all located in northwestern Pennsylvania. Our motto "From Start to Finish" relates Matson's continuous involvement with our product from growing timber to selling a quality product. The company grows, saws, dries, stores, markets, packages and ships Northern Hardwoods both domestically and internationally, with over 30 years experience in exporting.
Matson's reputation has been built on consistently providing a quality product. Through the years, Matson has built strong relationships both inside and outside of the United States. With the death of Robert D. Matson in January 2005, the company continues, directed by the eighth and ninth generation of the Matson family in the lumber business. We share the same pioneering spirit, commitment to quality, and dedication to our customers as our predecessors.