Our Company
Higher Standards
Matson Lumber prides itself on producing consistent, on grade, bright, well manufactured, flat lumber to markets all over the globe. Instead of doing several items well, we seek to produce our core 5 items to a level of satisfaction unrivaled in the industry. From a rigid small procurement area, to internal standards well above and beyond NHLA requirements, Matson Lumber maintains quality control from our landing to yours.

---
Dedicated People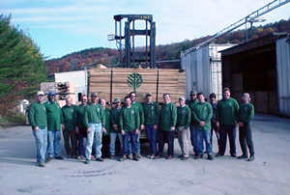 Over two hundred dedicated people provide Matson Lumber with the strong roots required to produce a quality product. We currently employ ten people with 30+ years of experience. Over thirty of our employees have 20+ years of experience. And over fifty employees have been with the company for 10+ years.

Not only is Matson Lumber a family-owned company, but we also employ many families. In some cases, more than one family member is currently working at Matson Lumber. Also, many employees have had the opportunity to work for the same company that their parents or grandparents have spent their careers. From generation to generation, Matson Lumber relies on these dedicated and skilled individuals to provide the highest quality hardwood logs and lumber from start to finish.